Hardware configuration​

CPU

Allwinner H6 Quad Core 64bits Quad-Core Cortex-A53@1.8GHz

GPU

Mali-T720

RAM

4G

ROM

32G/64G

6K/4K Video

HDR10 ,HLG,HDR,6K 30fps,4K 60fps, 1080p 60fps video decoding,

including H265/HEVC Main/Main 10 profile level5.2 High-tier;

4K 60FPS;H264/AVC BP/MP/HP level5.1,MVC,4K 30fps;

WIFI

802.11 b/g/n/AC (very fast WiFi, near 1000Mbs) Dual band Wifi , 2.4G and 5G with Bluetooth

Memory card

Support TF card, up to 32GB

HDMI

HDMI 2.0a;HDCP2.2

OTG

yes

HOST

USB 2.0 /3.0

Operating system

Android 9.0

Video Output

HDMI,AV

Bluetooth

YES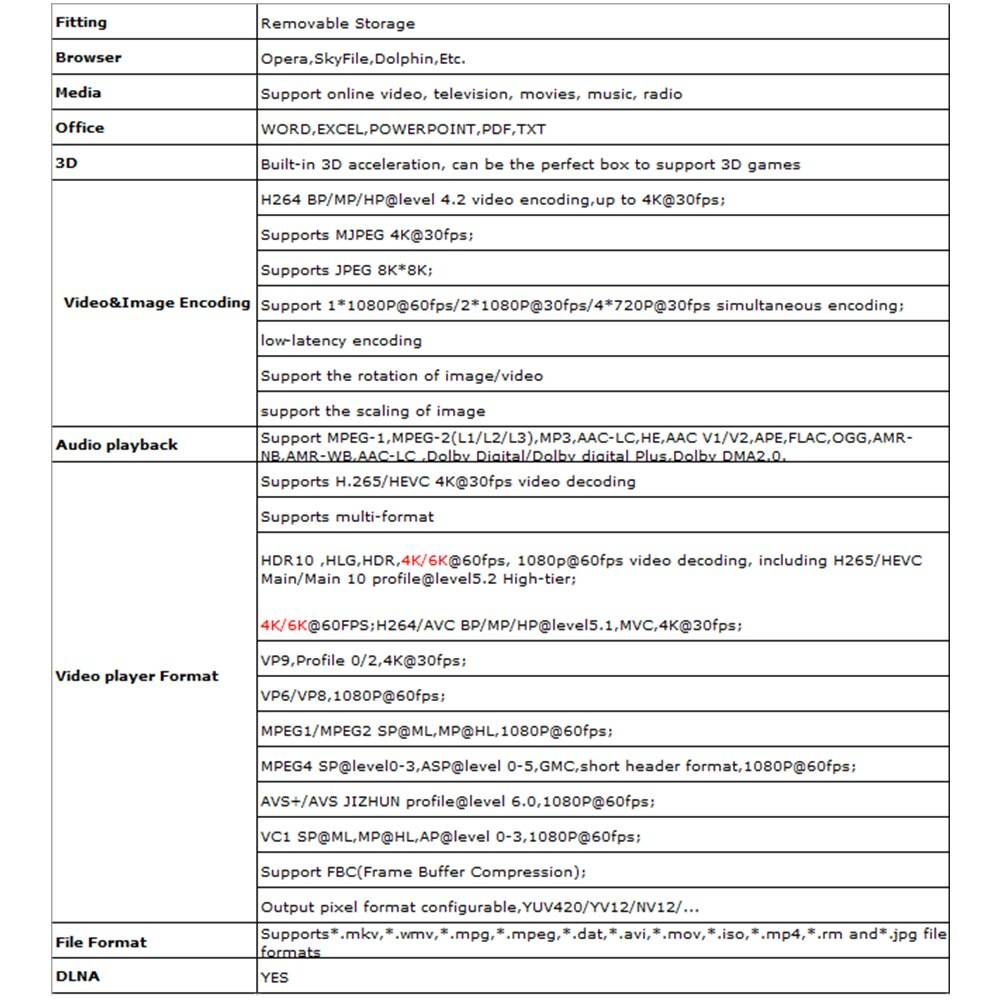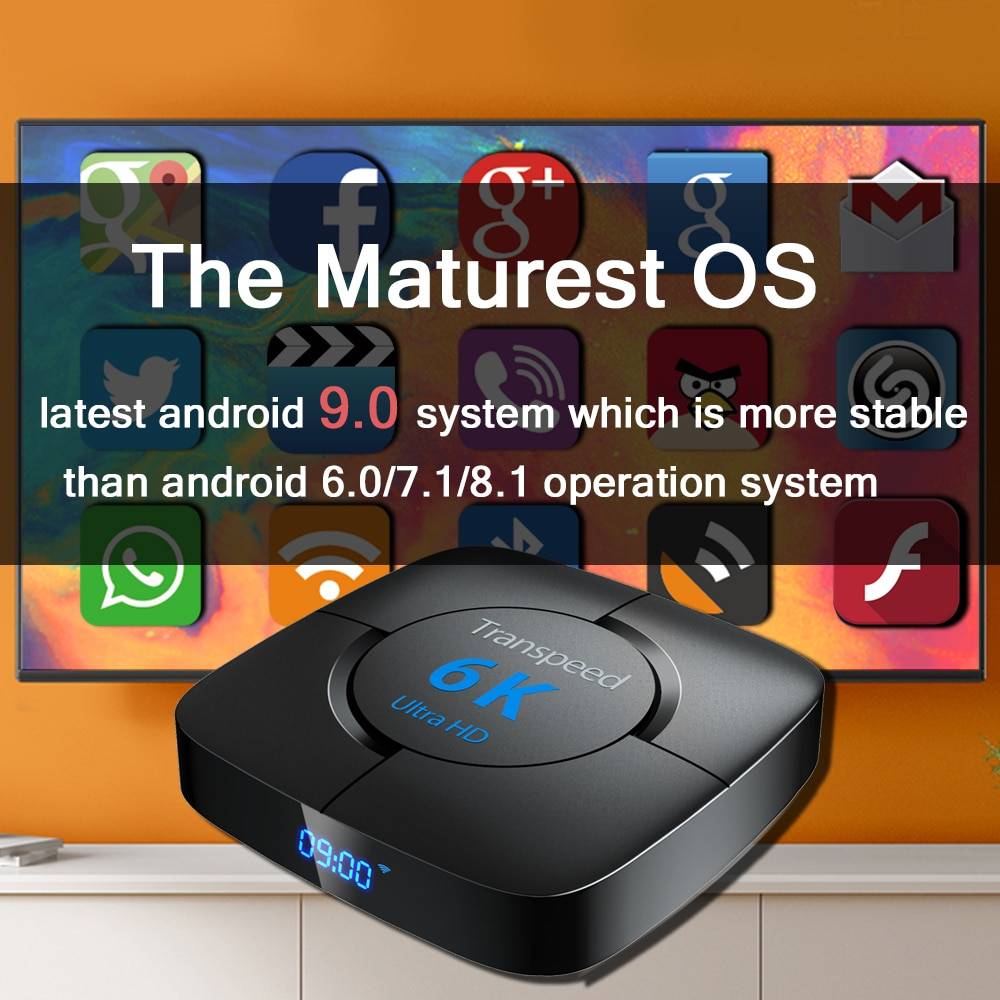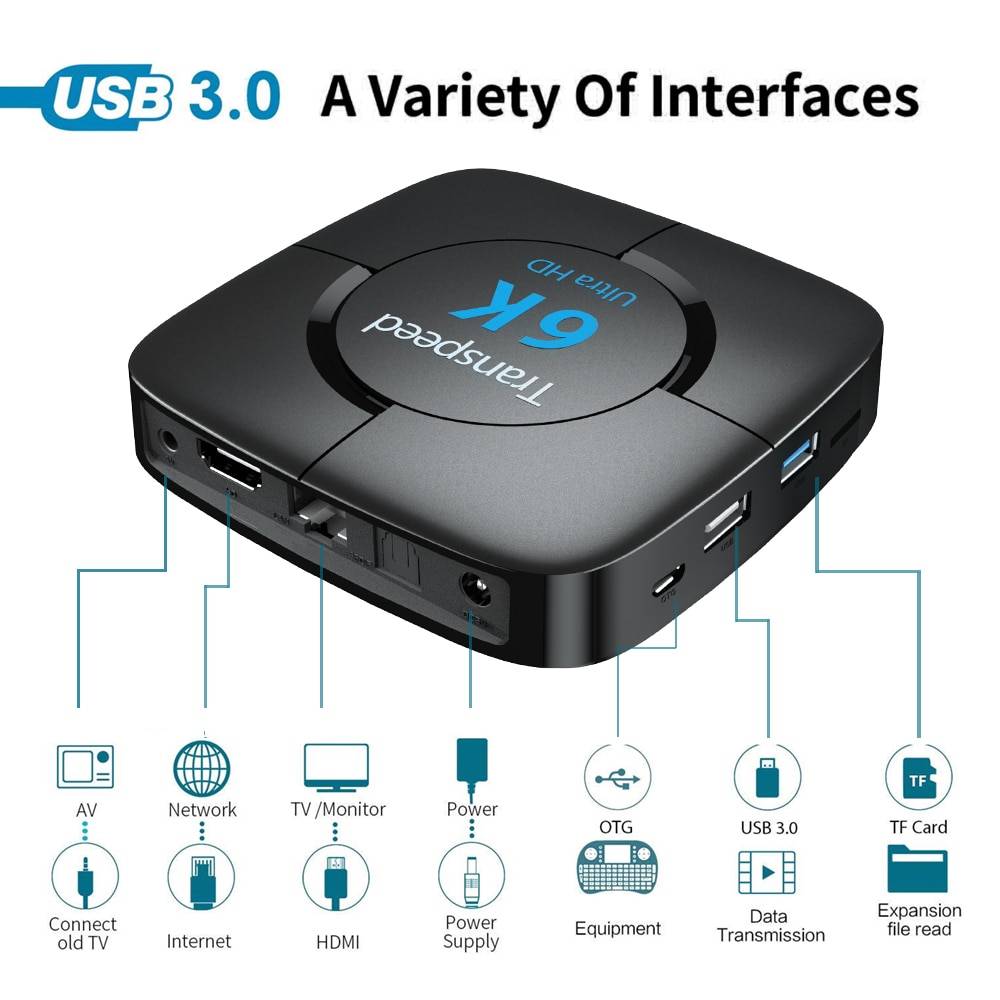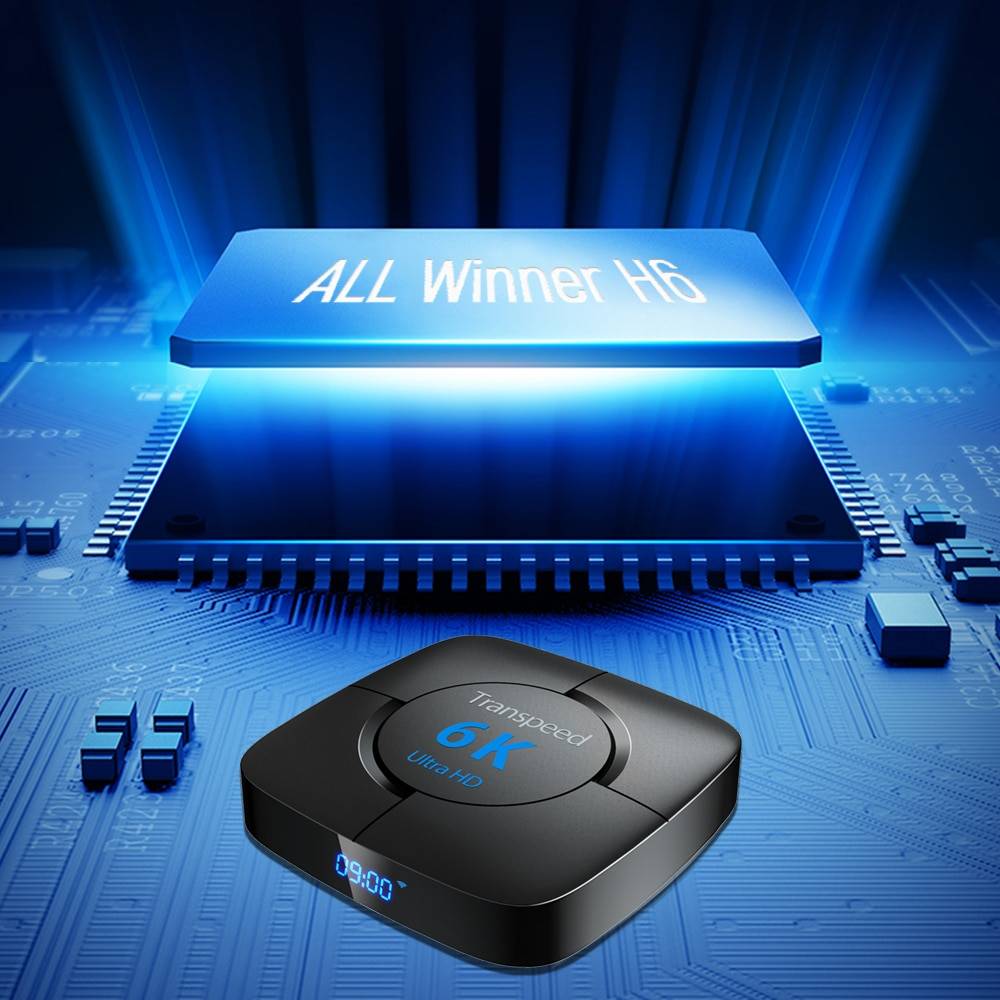 If you choose the tv box with Google assistant air mouse , your package will include G10S Voice air mouse as below:pls note it will has no IR remote control included
Google assistant air mouse G10S: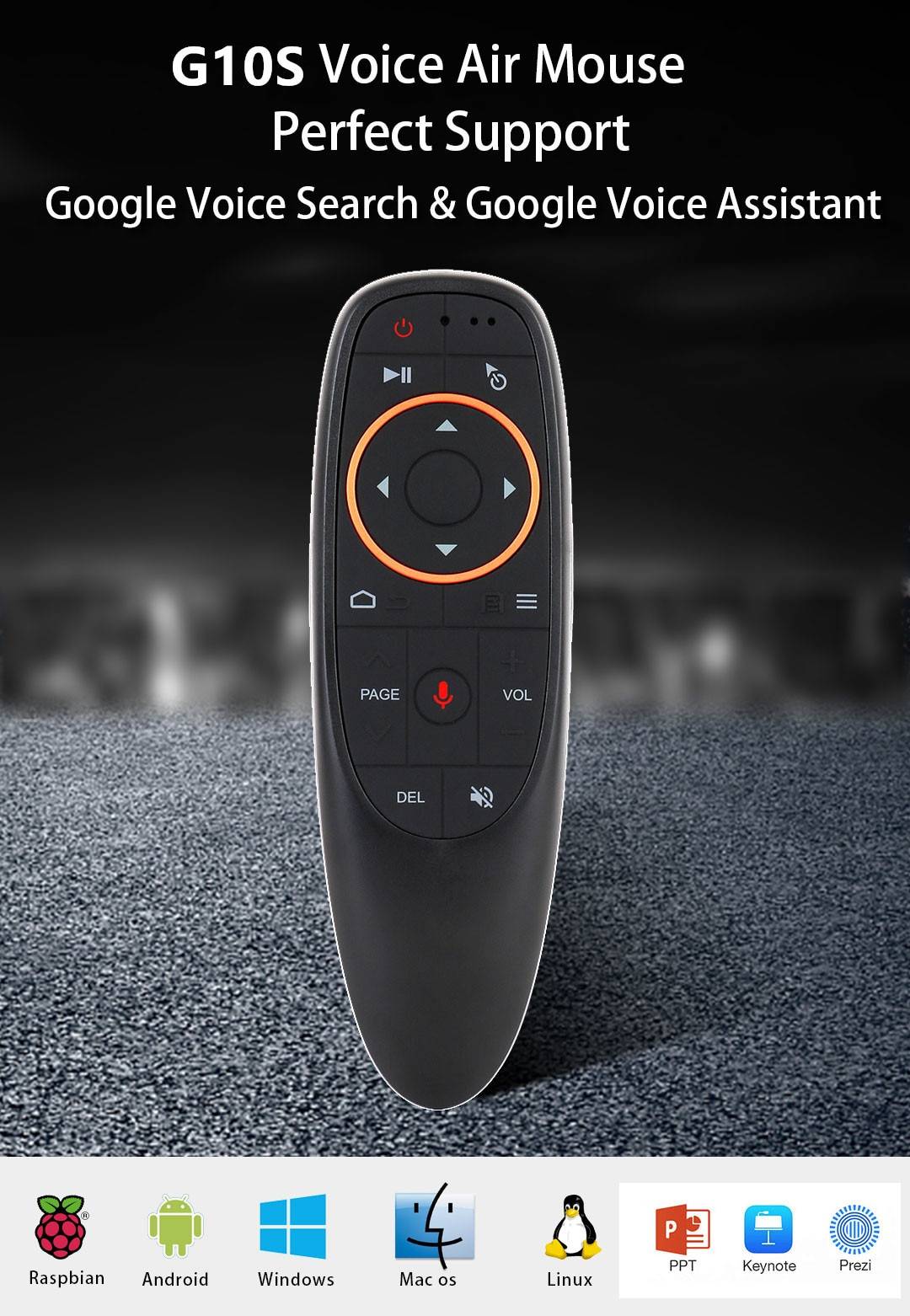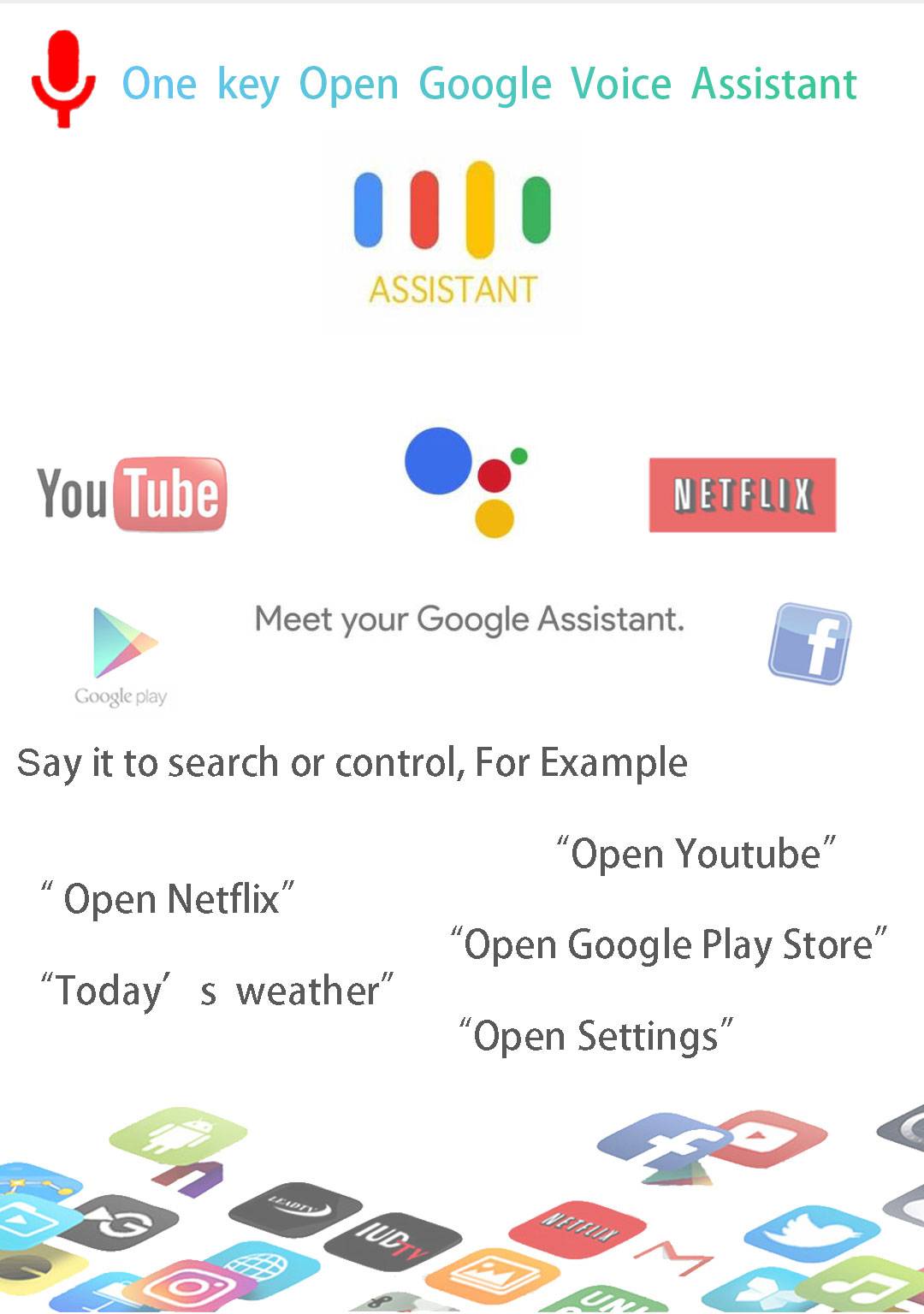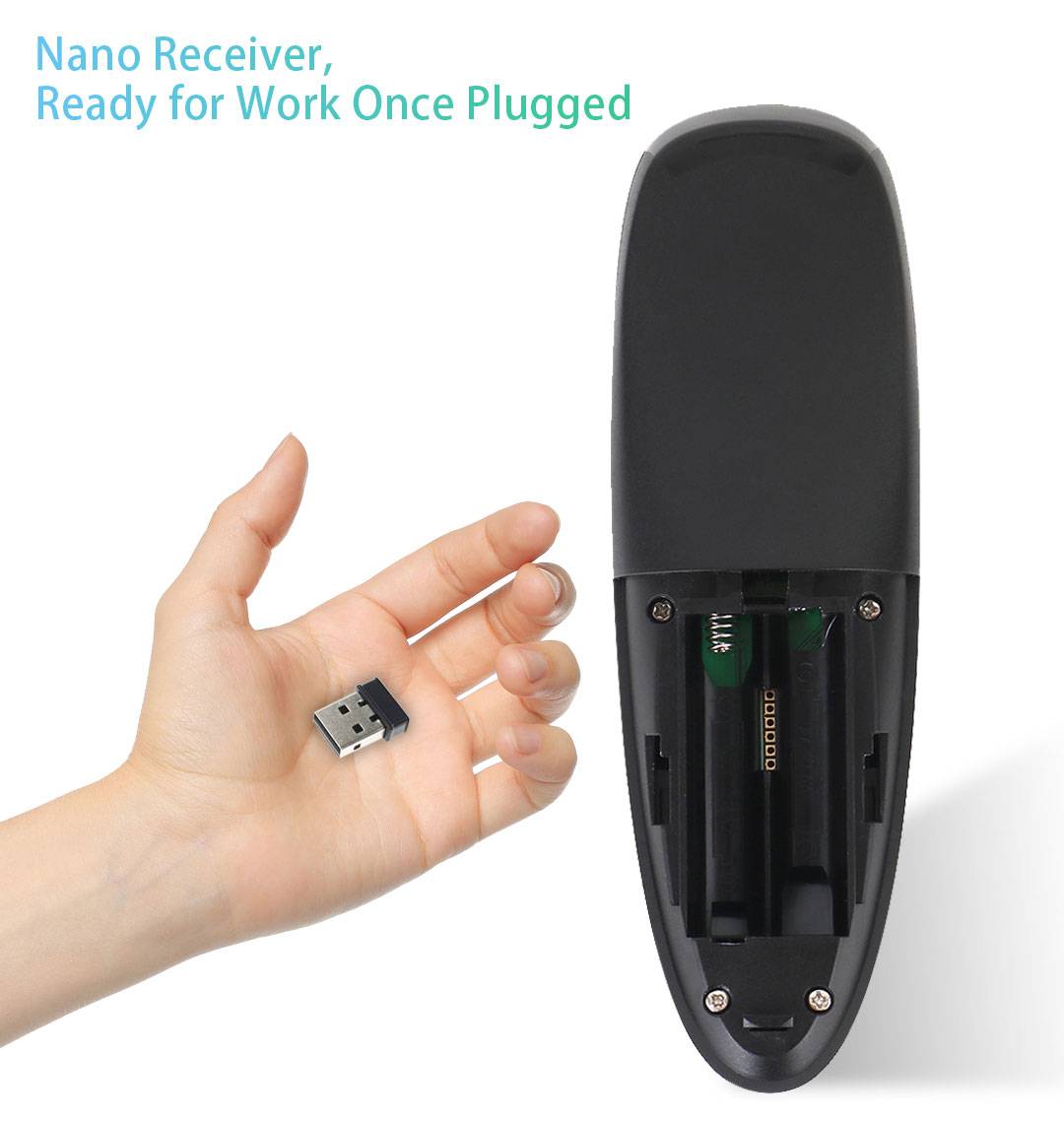 If you choose the tv box with wireless mini keyboard , your package will include the keyboard as below:
Wirelesss keyboard:
New 92 Key Mini Portable 2.4GHz Keyboard Mouse Touchpad Remote Game Controller Air Mouse Keyboard
We have English+ French ; English + Germany; English+ Arabic ; English + Hebrew; English+ Spanish ; English + Russian and English letters only for this keyboard.Please leave us a message for the language you like
when you place the order, otherwise we will ship out English letters only for you. Thank you!
Introductions:
This is a wonderful combo, 2.4GHz mini wireless QWERTY with English letters keyboard, Touchpad combo, with USB interface adapter for the lecture, sales manager, presenter, from within a 30′ radius make a presentation and operate PC wireless. Change slides and screen options, write on the screen, emphasize words and objects just by using this wireless mini keyboard and mouse with Touchpad. For people who want to watch internet TV play on their standard TV, via broadband and a PC like NBC, ABC, FOX and IPTV Android TV box, if use this wireless mini combo, who can sit in comfortable chair and select viewing pleasures without waking to computer to change channels or scroll through options.
​The keyboard uses AAA battery , AAA battery was not included, the buyer need to buy AAA battery by himself.
Fitting
Removable Storage
Browser
Opera,SkyFile,Dolphin,Etc.
Media
Support online video, television, movies, music, radio
Office
WORD,EXCEL,POWERPOINT,PDF,TXT
3D
Built-in 3D acceleration, can be the perfect box to support 3D games
Video&Image Encoding
H264 BP/MP/HP@level 4.2 video encoding,up to 4K@30fps;
Supports MJPEG 4K@30fps;
Supports JPEG 8K*8K;
Support 1*1080P@60fps/2*1080P@30fps/4*720P@30fps simultaneous encoding;
low-latency encoding
Support the rotation of image/video
support the scaling of image
Audio playback
Support MPEG-1,MPEG-2(L1/L2/L3),MP3,AAC-LC,HE,AAC V1/V2,APE,FLAC,OGG,AMR-NB,AMR-WB,AAC-LC ,Dolby Digital/Dolby digital Plus,Dolby DMA2.0.
Video player Format
Supports H.265/HEVC 4K@30fps video decoding
Supports multi-format
HDR10 ,HLG,HDR,4K/6K@60fps, 1080p@60fps video decoding, including H265/HEVC Main/Main 10 profile@level5.2 High-tier;
4K/6K@60FPS;H264/AVC BP/MP/HP@level5.1,MVC,4K@30fps;
VP9,Profile 0/2,4K@30fps;
VP6/VP8,1080P@60fps;
MPEG1/MPEG2 SP@ML,MP@HL,1080P@60fps;
MPEG4 SP@level0-3,ASP@level 0-5,GMC,short header format,1080P@60fps;
AVS+/AVS JIZHUN profile@level 6.0,1080P@60fps;
VC1 SP@ML,MP@HL,AP@level 0-3,1080P@60fps;
Support FBC(Frame Buffer Compression);
Output pixel format configurable,YUV420/YV12/NV12/…
File Format
Supports*.mkv,*.wmv,*.mpg,*.mpeg,*.dat,*.avi,*.mov,*.iso,*.mp4,*.rm and*.jpg file formats
DLNA
YES
DRM
Support DRM
Language Support
Built-in 33 languages